›
Send your ideas to:
velvitt@bgk.bmf.hu
Thank you!
›
Domain of the project:
velvitt.banki.hu!


Meeting





VELVITT Conference in Heraklion, Crete, Greece

Venue
Technological Educational Institute of Crete
Amphitheater

Time
11 October 2005, Tuesday
from 9.30 to 14.00 (in Greece)




Programme of the Conference

9.30

Welcome
Haris Papoutsakis, TEI of Crete

9.40

Opening
President of TEI

First Part - Moderator: Teresa Oliveira - New University of Lisbon

10.00

A Brief Review of VELVITT
Pál Pentelényi - Ágnes Tóth, Budapest Polytechnic

10.15

Experiences of Common Module Delivery Using Blackboard
David Lord - Matthew Pearson, Huddersfield University

10.30

The Finnish Way of E-Learning - Common Module Achievements and Experiences
Eeva Manni - Hanna Torp, Tampere Polytechnic

10.45

The Portugese Experience
Teresa Oliveira - Alcino Pascoal - Lourenço Frazao, New University of Lisbon

11.00

Hungarian Experience with the Common Module Delivery
Péter Tóth, Budapest Polytechnic

11.15

Evaluation of Questionnaires - Suggestions for Choosing a VLE
Anton van den Brink - Paul Dirckx, Fontys PTH.

11.30

Discussion

Coffee Break

Second Part - Moderator: Eeva Manni - Tampere Polytechnic

12.00

Establishment of a Central Unit for Training the Educational Staff
in New Pedagogical Methods and New Technologies in Education
John Kaliakatsos, TEI of Crete

12.15

Quality and Monitoring
Ádám B. Tóth, Struktúra Ltd.

12.30

Tutors' Training Profile [1st, 2nd]
Teresa Oliveira - Alcino Pascoal - Lourenço Frazao, New University of Lisbon

12.45

Psychological Aspects of Electronic Learning
Sándor Suplicz, Budapest Polytechnic

13.00

E-Learning Strategy in Hungary
Gyula Gubán - László Kadocsa, Dunaújváros College

13.15

Collating Evaluation Systems of E-Learning
László Kadocsa - Péter Ludik, Dunaújváros College

13.30

Experience Gained Using Asynchronous Tele-teaching Facilities at TEI of Crete
M. Kalogiannakis - K. Vasilakis, TEI of Crete

13.45

Discussion




Possibilities for joining the videoconference

There are two ways to follow the conference at long distance:

Videoconferencing:

In this case you need videoconference equipment based on IP or ISDN. These devices will be connected in the Netherlands with a multi point control unit (MPC-unit). This will be managed by a Dutch firm named Talk & Vision.

We need some information from you:

What kind of videoconference system do you use?
The connection is based on IP or ISDN?
What is your IP or ISDN-number?
Who is the contact person for the videoconference (name and e-mail address)?
At what time will be this person available to test the video-connection with us?

Please send your answers (Paul Dirckx) before September 23 because we need time to manage testing the systems.

Our system is a Polycom VSX 7000 based on IP. We have also a VCON Cruiser based on IP and ISDN.
The IP-number is 194. 26.12.34
The ISDN-number is 0031 (0)40 2961951
The systems are 24/7 available.

On October 11, the ISDN-partners should connect to a number that they will receive from Talk & Vision. The other partners (IP-based) will be invited by Talk & Vision at the beginning of the conference.

Streaming video on the computer:

You need a personal computer with a web-browser (for example: Internet Explorer).

We will provide you with an IP-address. If you fill in this IP-address in the browser you are able to follow the conference on your screen.

In this case it is not possible to ask any questions at the participants in Crete.

If you want to ask something about the presentation you have to use a videoconference system.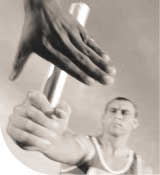 | | |
| --- | --- |
| | |
| | Angel |
| | Apertus ELTE |
| | Asymetrix Librarian |
| | BlackBoard |
| | EduWEB |
| | N@tSchool |
| | SchoolNet |
| | WebCT |
| | |